Social and Political Philosophy

Dr. Ahmed Abdel Meguid
Last Update June 23, 2022
About This Course
MEET YOUR INSTRUCTOR
Dr. Ahmed Abdel Meguid
Department of Religion, Syracuse University
COURSE OVERVIEW
Social and Political Philosophy: What is civility and civil order? What is political philosophy? What is the essence of sovereignty?
The advent of the term 'Human Sciences,' Geisteswissneschaften, in the late 19th century, marked a major transformation in the history of ideas and the taxonomy of sciences. However, the emergence of this body of sciences was equally indicative of a profound crisis in the development of theories of knowledge and sciences in the Enlightenment and the post-Enlightenment eras as Wilhelm Dilthey, the leading German philosopher and one of the first to coin the term Geisteswissneschaften, and later the French philosopher Michel Foucault remarked. If this is the case and if the human sciences have become a key source for interpreting and treating most ethical, social and political problems by individuals, civil society and even governments across the world, what perspective do the Islamic sciences have to offer on such body of sciences? Could this perspective be merely a product of superficial reconciliations between classical Islamic concepts and contemporary ones as most scholars of Islam in the last century have been attempting? Or does the body of the Islamic rational sciences especially as it matured from the late 13th to the late 18th centuries offer a radically new perspective on the crisis that led to the emergence of human sciences and hence furnish a completely different foundation for a new system of humanities? This course will respond to these central questions.
Unit 1 – Political Philosophy between Plato and Aristotle
Unit 2 – The Political Subject and the Constitution of the City (Part 1)
Unit 3 – The Political Subject and the Constitution of the City (Part 2)
Unit 4 – Governance and Sovereignty (Part 1)
Unit 5 – Governance and Sovereignty (Part 2)
Unit 6 – Modern Epistemology and the Troubled Birth of the Modern State and Its Paradox
Unit 7 – The Modern State, the Claims of Reason and the Paradox of Sovereignty
Unit 8 – 20th-Century Critiques of the Modern State
Unit 9 – The Political Birth of Islamic Philosophy and Rational Theology: Preliminary Remarks
Unit 10 – Abū al-Ma'ālī al-Juwaynī as a Case Study
Unit 11 – From al-Fārābī to Averroes
Your Instructors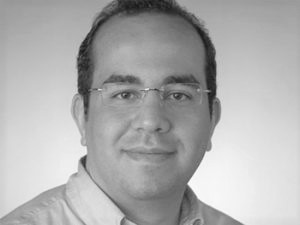 Dr. Ahmed Abdel Meguid
Dr. Ahmed Abdel Meguid has been an Assistant Professor of Religion at Syracuse University since 2011. He received his Ph.D. from the Department of Philosophy at Emory University in Atlanta, Georgia, in the same year. His areas of specialization include the history of philosophy and philosophy of religion with a special focus on late 18th, 19th and early 20th-century German philosophy, as well as Islamic philosophy, theology, and mysticism. He has significantly contributed to the Princeton Encyclopedia of Islamic Political Thought and has also contributed to other books and articles on Islamic philosophy and political realism. He has received multiple awards and honours including the Fund for Innovative Teaching Award from Emory University in 2011.
See more