About This Course
MEET YOUR INSTRUCTOR
Dr. Khurram Khan
Director at MAC
COURSE OVERVIEW
This is (Part II) of the course on the Prophet's Companions by Dr. Khurram Khan. In this part, Dr. Khan continues the journey with a number of the noble Sahabah (Companions of the Prophet) who reflected the perfection of the character of the Prophet (PBUH) as they saw, spoke to, had meals with, and learned directly from him.
This unique generation heard the revelation of the Qur'an directly from the blessed lips of the Prophet (PBUH) and was able to implement and teach it to the next generation of believers. No other believers have the distinction of being the "Qur'anic Generation".
In this two-part course, we follow the journey of many of the first generation of Companions (the Sahabah) and what their lives can teach us. Today, people are looking for role models, and we have manufactured artificial superheroes and characters to fill this human desire. Once we connect with the stories of these remarkable human beings, we will naturally have new inspirational role models we can relate to and admire.
Each segment is only a brief glimpse (10 minutes) into the life of the Companions and a more detailed study can be obtained via additional resources. Segments can be repeated or used as regular reminders.
This course is for everyone. The language and appropriateness of content are designed for all ages.
Unit 1 – Zayd ibn Harithah
Unit 4 – Umm Sulaym: Rumaysa bint Milhan
Unit 6 – Ubadah ibn as-Samit
Unit 7 – At-Tufayl ibn Amr ad-Dawsi
Unit 8 – Mus`ab ibn Umayr
Unit 9 – Abu Musa al-Ash`ari
Unit 10 – An-Nu`man ibn Muqarrin
Unit 11 – Abu Dharr al-Ghifari
Your Instructors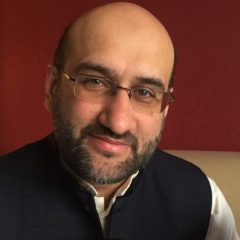 Dr. Khurram Khan
Dr. Khurram Khan served on the board of directors and executive committee of MAC in several capacities. His focus is on working with youth and young adults to achieve their professional and personal goals. He is also an adviser to Islamic organizations and an Islamic lecturer in the community. Professionally, he is an Associate Professor of Medicine at McMaster University. He has a Masters in Epidemiology and has published many peer-reviewed research articles in the specialty area of Digestive diseases. He enjoys studying history, playing sports, and spending time with his family.
See more