About This Course
MEET YOUR INSTRUCTOR
Dr. Jasser Auda
President of Maqasid Institute Global
COURSE OVERVIEW
This course is on the most fascinating topic that a human being, not just a Muslim, could learn about. It is the Qur'an. It is the book that Allah sent.
This is a fascinating topic because this is a very different book. This module is about welcoming you to the general features and the nature of this book.
This is a book in which Allah (SWT) – God – is speaking; and that is different from any other book: religious or non-religious in any other tradition.
There is no other book in the world in which Allah is speaking. Even if you look at the books of the other originally heavenly religions in which there is a Prophet speaking. If you read the Bible, sometimes Jesus would say that God is saying this. Or Moses would say that God is saying this… and so on. But this is a book where actually God is speaking.
From the beginning to the end, Allah is speaking to us. And that is a very different approach to that book, because when you see that Allah is speaking then Allah is telling us things.
Unit 2 – How to Approach the Qur'an?
Unit 3 – Between Arabic and the Qur'anic Translations
Unit 4 – Stories in the Qur'an
Unit 5 – Some Major Themes of the Qur'an
Unit 6 – Makki vs. Madani Qur'an
Unit 7 – Relation between the Qur'an & the Sunnah
Unit 8 – Pondering the Qur'an for Deeper Understanding
Unit 9 – How Often Should I Read the Qur'an?
Unit 10 – History of the Qur'anic Compilation
Your Instructors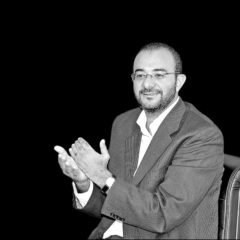 Dr. Jasser Auda
Professor Jasser Auda is a scholar of Islamic legal theory, especially the higher purposes (maqasid) of the Islamic law. He is the President of Maqasid Institute Global, a think tank registered in the USA, UK, Malaysia and Indonesia, a Visiting Professor at the Centre for the Study of Islam at Carleton University, Canada, a Visiting Professor at the Rule of Law Institute, Faculty of Law, Loyola University Chicago, and Al-Shatibi Chair for Maqasid Studies at the International Peace University in South Africa. He is a Founding and Board Member of the International Union for Muslim Scholars, an Executive Member of the Fiqh Council of North America, a Member of the European Council for Fatwa and Research, and a Fellow of the Fiqh Academy of India. He has a PhD in the philosophy of Islamic law from the University of Wales, UK, and a PhD in systems analysis from the University of Waterloo, Canada. Early in his life, he memorized the Qur'an and undertook traditional studies at the Study Circles of Al-Azhar Mosque in Cairo, Egypt. He worked previously as a professor at the universities of Waterloo and Ryerson in Canada, Alexandria University in Egypt, Faculty of Islamic Studies, Qatar, American University of Sharjah, UAE, and University of Brunei Darussalam, Brunei. Professor Auda lectured on Islam and its law in dozens of countries, and wrote 25 books in Arabic and English, some of which were translated to 25 languages.'
See more